Beginner Tutorial: Install and Setup Photopia for Rhino
This tutorial will show how to install and setup Photopia for Rhino.
Skill Level
Beginner
Downloads
none
1. Download and Install Rhino
You'll first need to ensure Rhino 6 or Rhino 7 is installed on your computer.
If you don't have Rhino installed, you can download either an evaluation version for 90 days or the full version if you already have a Rhino license.
Rhino Download
Tip : Use Rhino's Cloud Zoo
We recommend using Rhino's Cloud Zoo for licensing since it will behave similarly to your MyPhotopia license, allowing multiple peopole and computers to access the same Rhino and Photopia licenses.
Read more on Rhino's Website
2. Download Photopia for Rhino
You'll log in to your
account in order to download the Photopia for Rhino installer.
Under Software Downloads, download the Current Version.
Tip : Your MyPhotopia Page
Your MyPhotopia webpage is where you can always do the following:
- Download the most current version to any computer
- View your current license usage
- Renew maintenance
- Download any custom installations or templates
3. Install Photopia for Rhino
Run the installer your downloaded, selecting Photopia for Rhino to install Photopia for Rhino.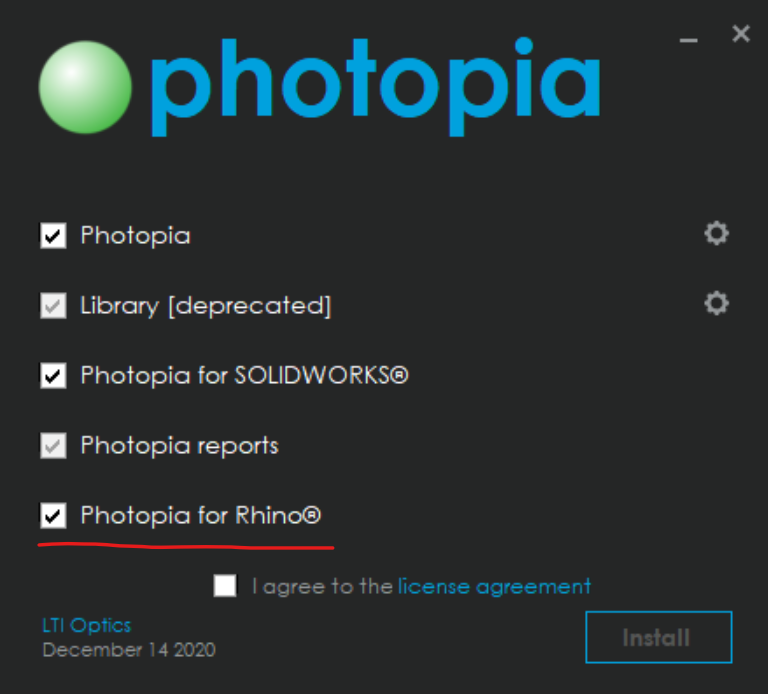 Tip : Other Software
If you use Solidworks or standalone Photopia, you can also install the latest versions of these at this time.
4. Access your Photopia License
From the menu choose Photopia > Licensing.
Sign in using your
account credentials.
Tip : License Status
If a license is available, you'll get a ✓.
If a license is not available, you'll get a ✘.
You can check the license status by clicking "Manage My Account".
5. Add the Photopia Toolbar
Select Photopia > Open Photopia toolbar from the Rhino menu.
You can dock this on any side of Rhino's interface.

Tip : Rhino Interface Customization
You can place the Photopia Toolbar in any location. You can also move individual icons around.
NOTE: When we update the toolbar you will need to re-customize your layout.
6. Add the Photopia Panels
Most of your work with Photopia will take place in our Photopia Panels.
Select Photopia > Open all Photopia panels from the Rhino menu.
This will open a floating screen containing all the Photopia panels.
We suggest first dragging the "Layers" panel into the floating panel containing all of Photopia's panels.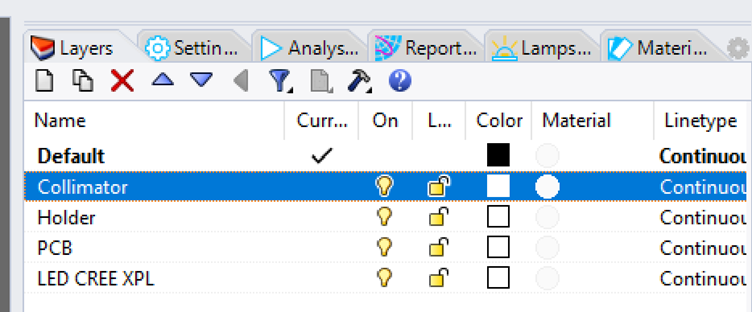 Then you can dock this above the screen containing the "Properties" and "Notifications" panels, like shown in the following image.
Tip : Missing Panels
If you accidentally close or move a panel, you can always go back to Photopia > Open all Photopia panels to get the panels back.
Now that your Photopia for Rhino interface is setup, we suggest the following two beginner tutorials.